Thumbnail is the first impression you make in front of your potential viewers. You can do your most work of carrying people to watch your video by serving your video with an effective thumbnail. When you are not able to make the first impression right then it becomes very difficult to make new people ready to watch your full video. So, Effective thumbnails are very important for your success on YouTube. For making Effective YouTube thumbnails, there are some tools.
In this article, we are going to talk about the best of such tools which help in generating YouTube thumbnails.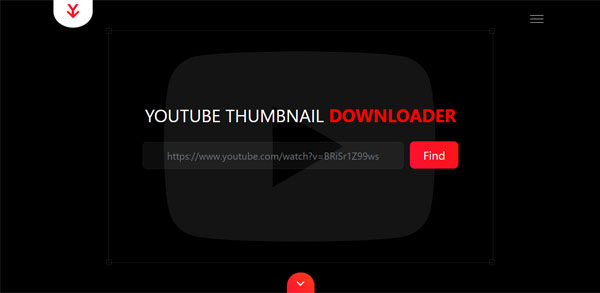 If you want to generate your YouTube thumbnails really quickly then the best approach is to use YouTube-thumbnails.com. This is an amazing YouTube thumbnail generator that can generate attractive thumbnails of different resolutions and sizes in seconds.
You need to just paste your youtube link in the find box and click on a button to generate thumbnails in seconds. You get buttons for directly downloading each thumbnail in different sizes.
Pricing
It is totally free. You don't even need to Sign Up there. You can just go to this website and start generating click-worthy thumbnails.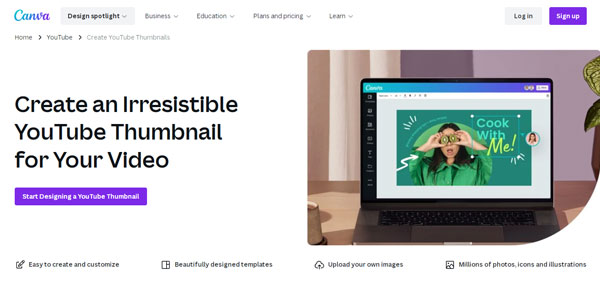 Canva is a popular graphic designing tool with this tool, you can design all types of graphics very quickly. You can design amazing YouTube thumbnails in a few minutes with this graphic designing tool.
The basic version of Canva is free but for gaining access to some premium pictures, videos, and features you have to pay.
Pricing
They have four plans-
Free–
You can begin to design on Canva with this plan. There are many restrictions in this plan but you can still design many types of graphics.
Pro- $9.99/month
If you are a one-person or a very small team then you can choose this plan. You can cross all restrictions which were applied to you while using the free plan.
Enterprise- $30/month
If you are a team and want to control your many design processes within the Canva app then you should choose this plan.
For education/non-profit organizations
If you want to use Canva for education purposes and non-profit organizations then you can also use it for free with some premium photos, premium fonts, graphics, videos, and animations. You can upload school logos and fonts, and add Bitmoji and gifs also to personalize your work.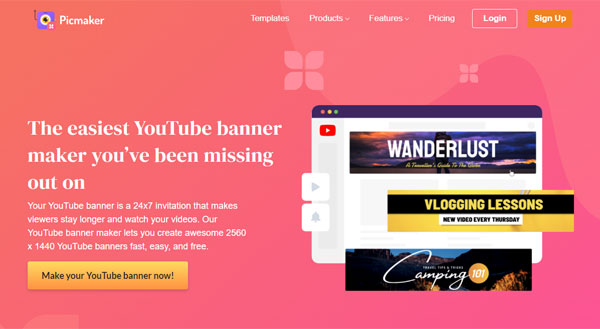 Picmaker is a free online tool for making YouTube thumbnails. You can create amazing YouTube thumbnails quickly by using templates. You can edit these templates any way you want. You can choose images from millions of royalty-free images for your thumbnails. They have a huge library of design objects.
Like Canva, it can be used for making other types of designs also. You can use your fonts, and images also in this app.
Pricing
There are 4 plans in the Picmaker app.
Free-
The free version of Picmaker provides many basic design tools.
Starter- $7.99/month
With this plan, the designing process becomes more fun. You can use a huge amount of premium pictures, icons, and other things.
Pro- $19.95/month
With this plan, you get access to brand kits and more premium images. You can do team collaboration, and you get more support as well.
Enterprise- Custom pricing
For knowing the pricing details for this plan, you need to talk to them. This is more suitable for medium to large size companies. You get unlimited storage, unlimited access to Premium images, and other stuff, and 24×7 support.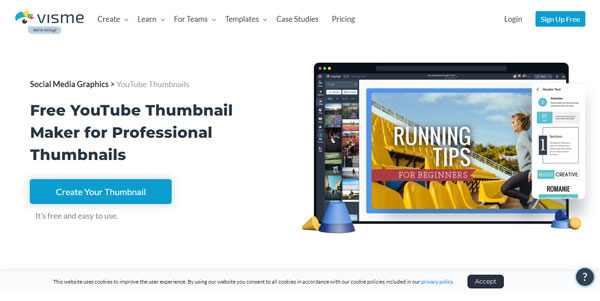 Visme is one of the hugely popular Thumbnail generator tools on the internet. You can easily design your thumbnails by choosing from loads of templates, images, fonts, icons, shapes, etc.
You can easily drag and drop different elements to align them in the best position to make the thumbnail good-looking and appealing.
You can export the file as PNG or JPEG after completing the design of the thumbnail, then upload this to YouTube.
Pricing
Free
Free pan of Visme avails you of 100 MB storage. You get access to limited templates and design assets. They can easily support you if you get stuck in any issue.
Personal- $12.25/month
With this plan, you get all the features needed by an individual for designing anything. You get 250 MB Storage, Full access to templates and design assets, and 24×7 Email and chat support. You can download your designs in PNG, JPG, and PDF.
Business- $24.75/month
With this plan, you may scale Visme across the whole team. You get 3GB of storage, full downloading options including PPTX, HTML5, Video, & GIF, and team-related features including Analytics, brand Kit, Collaboration, and Integration.
To know the pricing of this plan, you need to contact them and tell them about your needs. You get 25 GB of storage, Single sign-on(SSO), more security features, and personalized training and onboarding, you can use a custom subdomain also.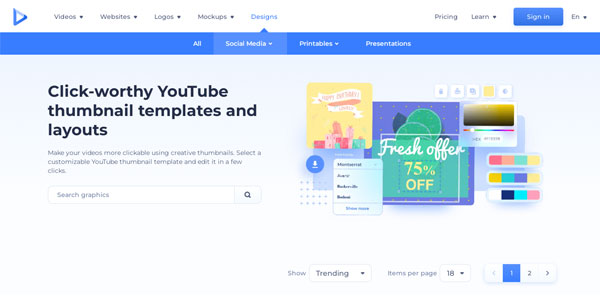 It provides a freemium online thumbnail generator that can help you design click-worthy thumbnails. You can easily design your thumbnails with templates and design elements without any prior experience.
Renderforest doesn't provide only a YouTube thumbnail generator but it provides vast features of graphic design, logo design, website design, and video editing.
Pricing-
There are 4 planes on both monthly and yearly bases.
Free
In the free plan, you get 500MB of storage, and access to thousands of templates, scenes, and presets on mobile or web.
Lite- $9.99 billed annually
With a light plan, you get 10 GB storage, 1 premium website on your own domain, access to 100k+ stock footage, music, photos, and 1M+ premium mockups, templates, scenes, and presets.
You can create unlimited HD720 videos, Vector SVGs, and PNG logos.
Pro- $19.99 billed annually
With the Pro plan, you can have 30 GB of storage, a Full catalog of 5M+ stock footage, photos, and music, and advanced website editing and control tools. You can create unlimited HD1080 videos.
Business- $24.99 billed annually
With a business plan, you get 50 GB of storage, 1 premium website on your own domain(per seat), a dedicated account manager, a reseller license, custom watermarks, and multiple Branding kits. There are features of team management also with this plan.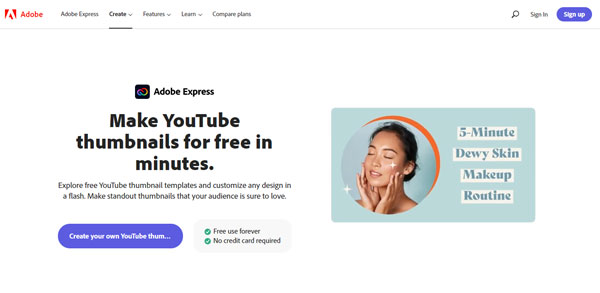 Adobe can choose from many customizable templates to design your YouTube video thumbnail. It is free to use pre-made thumbnail template layouts.
You can do all basic editing like adding text, image, background, background color, etc.
Pricing-
The premium Plan of Adobe spark costs $100/year.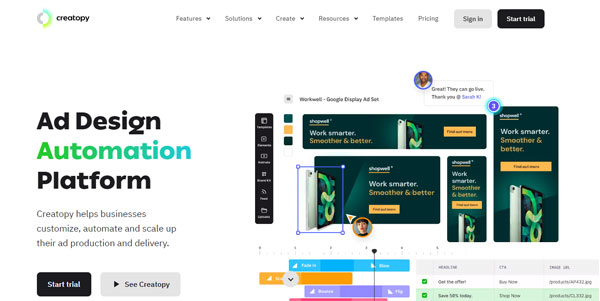 This tool has all the important features for designing thumbnails. You can use already designed templates by professionals for your YouTube video thumbnail design. You can customize them to match your brand.
Pricing
It is free for up to 3 designs and paid plans start at $17/month billed annually.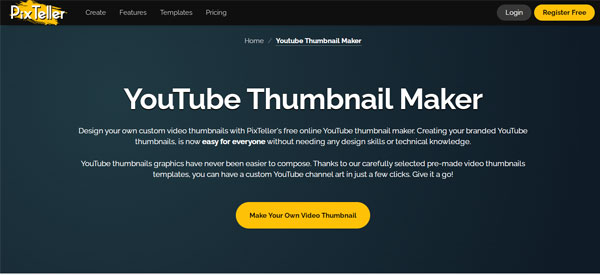 Pixteller is a free YouTube thumbnail design tool for designing mesmerizing designs. It comes with attention-grabbing video thumbnails. You can further edit these templates to match your brand.
Pricing
You can start using it for free but there are two plans for more features.
The Pro plan costs $7/month billed annually and the Diamond plan costs $12/month billed annually.
Backgrounder
Backgrounder is a free tool. You can start quickly by setting up the right thumbnail image size and choosing from many templates to finish it fast. You get all the basic editing features of adding images, adding custom text etc.
Backgrounder is free but they show ads above the workspace to cover their service-providing costs.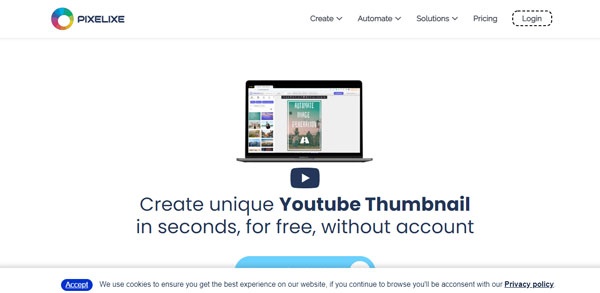 Like most of the tools mentioned above, it has pre-made templates also which you can use to design breathtaking YouTube video thumbnails.
It is a free online tool where you start to create your YouTube video thumbnail design from scratch also. All design features like adding custom text, adding images, and adding colors are available.
Pricing-
You can start using Pixelixe for free but you can use advanced features at a $9/month cost.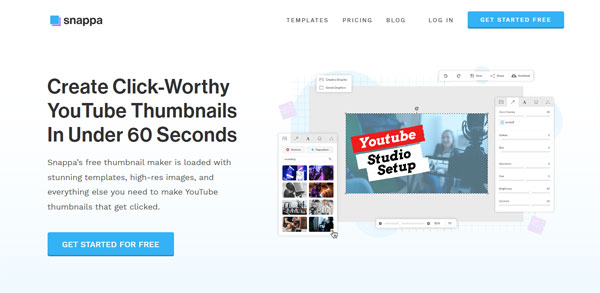 Snappa provides you with all the features and tools which are easy enough to use that a beginner can start creating professional YouTube thumbnails from day one. You can design your thumbnail design by using available templates, you may customize them or start from scratch also by adding texts, adding shapes, adding custom fonts, backgrounds and other design elements.
Pricing
You can start using it for free. The free version has all the important features to design beautiful YouTube thumbnails but you can always opt for a premium plan for advanced features. The premium plan costs $120 yearly which is appropriate for an individual. If you want team features then buy the team plan which costs $240 yearly.