With the rapidly growing no. of websites, and different types of profiles on the internet for different purposes. It is the very need of today's world to manage links or public content of these profiles or websites in a single place by a person or company. So, many platforms are launched to provide the environment of managing links or public Content of all the profiles/websites in a single place and make them all accessible more easily at once.
Linktree is one of the most popular platforms of this kind. Linktree is one of the first platforms of its kind. They marketed themselves very well, so were successful in gaining a huge user base of around 23 million.
There are many other platforms also like linktree. Some of these Linktree alternatives are built for a specific type of audience, some are totally free, and some have a few different features and different designs. If you don't want to use Linktree for whatever reason, you can choose the best alternative platform to linktree from the list we are providing in this article.
Whether you are an Instagram influencer or a blogger who wants to share his other profiles/content/websites via a single link. You need to take help from one of these platforms. The question is, which platform will be best for you?
Let's talk about some of these platforms and about their features in detail. So, you can decide easily which platform to choose for your needs.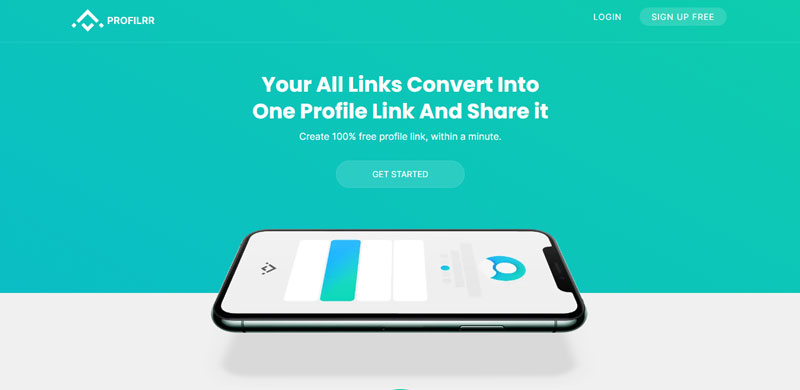 Profilrr.com is one of the best linktree alternatives for the link in bio tool. Unlike Linktree it's totally free at present time. You can add any type of link here with a title and icon/image. If you want to add a profile link to any popular social media website like Instagram, TikTok, Facebook, and for the e-commerce Shopify store then you can add that directly without specifying the site title and Icon.
Not only this, but you can also embed the content on platforms like YouTube, SoundCloud, and Spotify on Profilrr. This embed feature can be very helpful for creators, musicians, singers, etc. Profilrr allows you to embed Google Maps also. So, you can share location-related information about yourself or your business with this. 
You can also add Headers that could be useful for providing your content in an easy-to-follow format.
They have many in-built themes on their platform. You can personalize or make your profile unique with these themes.
You can check all the stats of user interaction with your profile in the stats section of the dashboard.
Go to the settings section, and you will find their SEO feature. It could be very helpful for a serious person, who wants to track their users more efficiently. You can provide a title and description for your profile and you can add your Google Analytics tracking ID for tracking the traffic interacting with your profile.
Let's summarise all details about Profilrr for easy navigation.
Platform Features
1. Add any Link
You can add any link on Profilrr, providing your own title and your own icon/image.
2. Add social links directly
You can add any popular social media link directly to the platform. This doesn't require you to add a title and icon.
3. Embed YouTube
You can add any YouTube video to your profile.
4. Embed SoundCloud
You can add any SoundCloud track to your profile.
5. Embed Google maps
You can Embed Google map also on your profile. This can be helpful for sharing any location details.
6. Themes
You can use themes to personalize your profile and make it unique.
7. SEO
You can provide a title and description for your profile. So, search engines can recognize what is your profile about and rank your profile accordingly.
You can also track the visitors interacting with your profile by using Google Analytics. Actually, they allow adding a Google Analytics tracking ID on your profile.
Pricing
It's totally free at present time.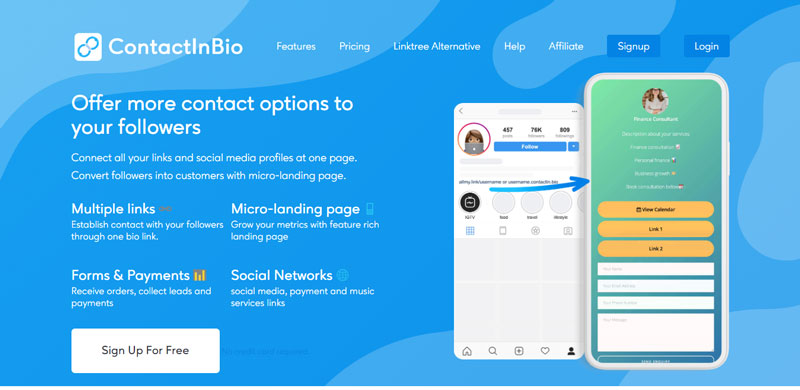 You can use ContactInBio to put all your social media links and other important links on one page and share this one link only when you want to share your details with someone.
Platform Features
Customize Design
You can customize how a link appears on the bio page.
Smart links
You can create smart links which allow accessing messaging apps like WhatsApp, a messenger with one click.
Add social media links
You can add up to 105+ social media icons on your profile, Customize the size of links, text color, and button background color as well.
Pricing
It is a freemium tool. You can choose from three plans on monthly or yearly bases. These are-
Free
You can add custom links, social media links, buttons, WhatsApp buttons, and Music services, use a custom profile URL, choose from 7 free themes, and you can do a few other things also with a free plan.
Business
You get everything free with this plan, you can make a carousel of images, Facebook pixel integration, and many other premium features are included in this plan. It costs $4.55 per month.
Agency
You can manage 5 accounts with this plan. It cost $18.2 per month.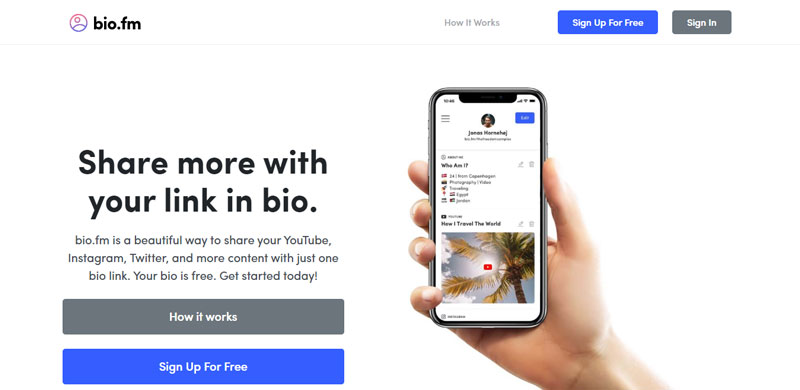 You can use bio.fm to share your YouTube, Instagram, Twitter, and other content.
Plateform Features
Blocks
You can add blocks and afterward add links in contacts. Blocks allow you to format the profile's content. You can add, delete, edit and reorder the blocks just by using your mouse.
Social media links
You can add social media links to your profile and let more people connect with you through suitable channels.
Put your bio on autopilot
You can set up your profile on bio.fm in a way that it will show up your latest content (posts, videos) without touching your bio.
Pricing
You can use it for free with limited features. It cost $10 to use the premium version of the app.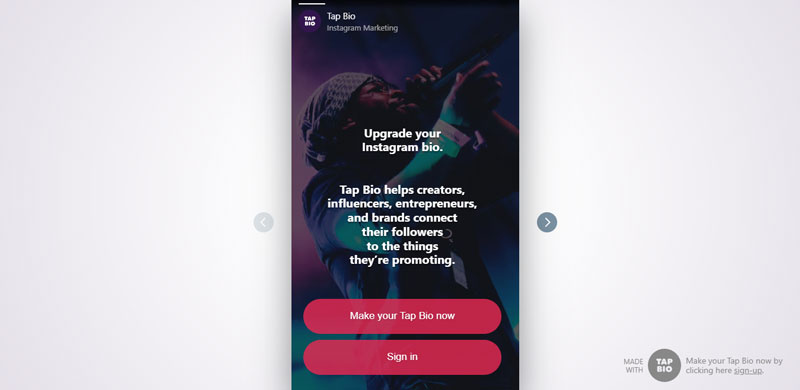 You can upgrade your Instagram bio with this linktree alternative. You can connect your visitors to things that matter.
Features
Don't limit yourself to one link
Instagram allows you to enter only one link but doesn't limit yourself to only one. Instead, use tap.bio which allows you to share multiple links, images, and videos that matter.
Multi-page
You listen it right. You can make multi-page bio with tap.bio and slide around them just like Instagram stories.
Design
You can design professional looking Cards in the tap.bio
Pricing
It is a freemium bio tool. There are 4 plans to choose from. The basic plan is free which allows you to create only one card. The silver plan costs $3/month and allows 3 Cards, the Gold plan costs $8/month and allows unlimited Cards, and the Platinum allows you unlimited Cards + custom Branding but you need to contact them for asking the price.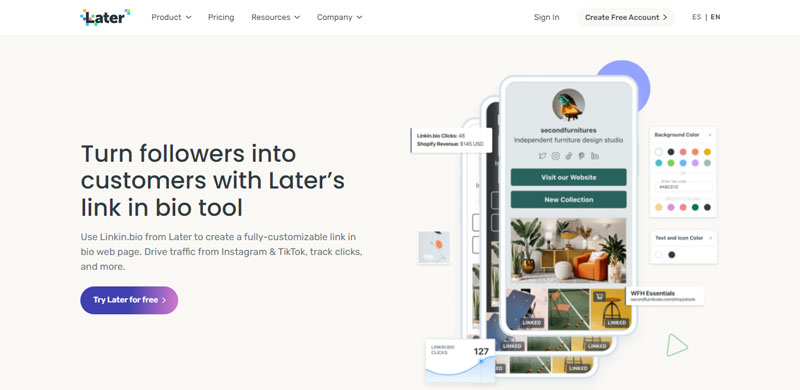 You can use this tool to create a customizable bio and use it to drive traffic from Instagram, Tiktok and other popular platforms which allow you to add only one link.
Features
Themes
Choose between a light and dark theme for your bio page.
Drive traffic to other web pages
You can use this tool to drive traffic from Instagram, Tiktok etc. to other pages which you want to reach as many people as possible.
Analyze your traffic
You can analyze the interaction of people with posts and optimize your profile accordingly.
Custom fonts
You can use custom fonts in your profile and make your profile more unique.
Pricing
It is a freemium tool. The pricing starts at $19/month for premium features.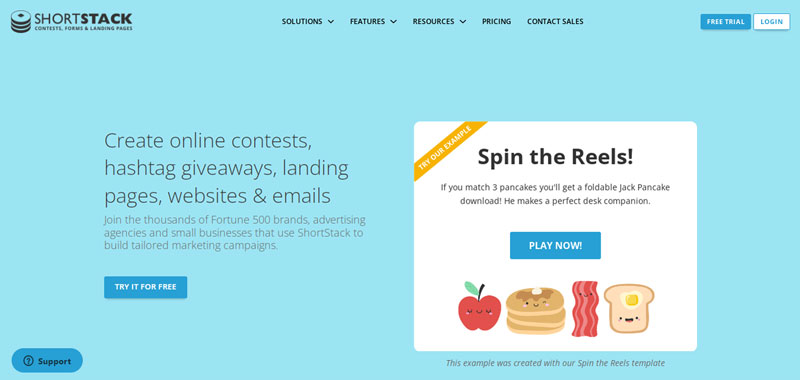 It has some more advanced features also such as you can create customizable form-based contests, and Social media giveaways, landing pages, and emails.
Features
Fully customizable forms
Choose from which data to collect then add text fields, drop downs, buttons, check boxes, etc. accordingly.
Simple contests
You can create easy-to-enter contests for your followers. You can create hashtag contests and comment to enter the sweepstakes.
Coupon codes
You can distribute coupon codes via email to people participating in contests or filling out the form.
Pricing
There are 4 plans to choose from and start using the shortstack. It provides a free trial plan also which allows very small traffic per month.
Business
You are given 10,000 entries and 50,000 views for $99/per month.
Agency
With this plan which costs $249/month, you can get up to 50,000 entries and 250,000 views per month.
Brand
For $499 per month, they allow 500,000 entries and 2.5 million views on your profile.
Enterprise
For this you have to contact them then you get details about this.
Conclusion
Hope you have loved this list of Linktree alternatives. Every profile tool comes with its own tactics and features, which one will be better for you depends on your needs. In this complex world, simple things are always cool and better. We developed Profilrr with the same philosophy. Profilrr is a simple, easy-to-use but complete in itself bio tool.