Most people frequently think of wealth, success, and power as the final goals of creating a business. But, despite the success stories we often hear about getting these from starting a business, there are millions of failed attempts that were never reported by the media.
Most entrepreneurs enter the business world with glamourous expectations and this often leaves them unprepared for the downsides they will face while starting their business.
Every established entrepreneur would agree that starting and running their firm wasn't a walk in the park, and stories about the struggles will never do justice to it.
Starting a successful business needs a lot of drive, commitment, and people skills. You'd also need a great product and captivating brand name ideas that are memorable, evocative, and alluring.
And not just that, you'll also need knowledge of some very crucial information. And in this article, we'll be passing them on to you.
10 Things to be Aware of Before Starting Your Business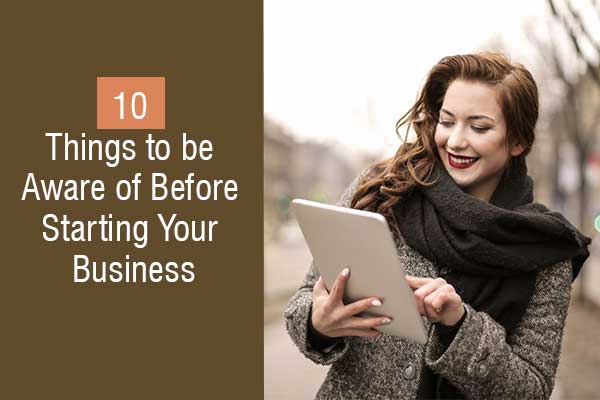 Select Your Niche With Care
Concentrating all of your efforts on one area is the best way to establish your startup's reputation and clientele. So, make your brand known for one thing before increasing your reach.
Giving your brand a reputation for something is ideal because not doing so would leave your brand weak, generic, and uninviting.
Think carefully while selecting your niche because picking a crowded or untapped market might stifle or destroy your business.
Create an Inviting Image for Your Company
It's vital you remember that your brand is the most recognizable asset you have when running a business, regardless of your industry. Simply put, a company's brand rather than its products greatly increase customers' likelihood of embracing it.
Therefore, make sure to give serious thought while creating your brand's values, objectives, and distinctive value proposition as they help build your company's image.
Also, pay attention to your business name; it is one of the essential parts of branding. Ensure you use the knowledge of your company's values, objectives, and value proposition to generate unique business name ideas that align with your company's goals for the marketplace.
Another aspect you need to focus on when creating your company's image is your brand tone. Customers only interact with brands they can relate to; therefore, consider choosing a brand tone that is appealing to your target audience.
Build a Great Website and Build an Engaging Online Presence
With the massive increase in eCommerce and the growing reliance of businesses on the internet, getting a website for your company and increasing your online presence is a crucial part of building your business. And any company that can get the love, respect, and patronage of its target demographic online will succeed.
And the fact that most transactions clients engage in begin and, sometimes, end on online platforms, not having an active presence online would limit your brand's accessibility and its conversion rates.
Also, establishing an online presence can considerably assist you in expressing your company's brand identity.
Use Innovative Marketing
Advertising is a fantastic and reliable technique for spreading awareness of your new company. You can make use of any form of advertising you prefer, ranging from physical to online ads. Be sure to use celebrities when possible; this helps attract more attention to the ad.
Ensure all of your brand's advertisements convey the proper message and evoke the feeling you want from your customers to avoid having your audience glance at them and going on without taking notice of your company.
Always Take the Lead
There are hundreds of companies currently providing comparable products and services to those of your business. And honestly, new businesses entering the market to offer the same product and service soon find an uninterested target audience.
The simplest method to stand out is to innovate and provide clients with distinctive offerings. If you are a new business, standing out should be your core aim. If not, your business would be so similar to the existing options that your intended audience wouldn't even notice you.
Brands will always be seen as industry leaders if they can stay ahead of the curve and satisfy customer needs for which they had no hope of finding a solution. This would help you quickly capture your target audience's interest, respect, and loyalty.
Cherish Your Clients and Show Them You Do
Every excellent brand shares one trait, and that's consistently providing services that are in the best interests of their clients. Beyond simply appreciating their clients, they also love them enough to constantly put their needs first.
Customers love being appreciated. And doing that is the best way to turn first-time customers into loyal customers. And to effectively do that, make sure you listen to your customer's feedback and try as much as possible to address their complaints quickly.
Remember, the best way to serve your target market is to continually search for ways to improve your business operations and offer high-quality services at affordable prices.
Put Your Audience's Values First
The world of business has changed dramatically. Customers no longer expect companies to keep silent on social issues; instead, they want them to take active steps in solving environmental issues.
The best way to know which value appeals to your customers is by studying and understanding your target audience.
Now, you can represent your company as more than simply a business; you can show it as a friend by prioritizing your audience's values and connecting with them through your brand.
However, be cautious because misrepresenting values can undo the good you intend. You may also be faced with scenarios of conflicting values between your customer base. Learn to know when to ignore or take a neutral stand.
Find Exceptional Partners
Partners are a highly appreciated asset in the corporate world today. As a business owner, you should look for trustworthy partners who can help your company succeed.
Partners can aid your company with fulfillment services like product testing, logistics, or even loans. This could incredibly accelerate your business's growth compared to doing it without them.
Evaluate the Reliability of Your Product
Nothing should ever be left to chance in business. Millions of people will see the launch and product launches of your firm, and you wouldn't want to turn it into a disaster.
And because of this, always have a group of experts thoroughly inspect the products and services under your brand. Some social media platforms, especially Twitter, have made a habit of picking on the mistakes of businesses. Becoming a victim of this can set up a bad reputation for your firm.
Furthermore, besides launching, ensure your products or services are top-notch and free of glitches that'd make your firm seem unprofessional.
Investigate Failed Businesses
Numerous factors can cause businesses to fail. Poor planning, a lack of funding, unstable economic conditions, disagreements, and legal proceedings have all contributed to the failure of several businesses. You should invest time in learning from every failed company in your niche to prevent repeating history.
Keep a careful eye on why they fail since knowing the reason will not only prevent you from repeating the same errors but will also help you develop a better method of addressing the mistakes.
Stay Innovative
During the start of your business operations, ensure you keep your eyes peeled for new developments or new ways of doing things. Furthermore, as earlier stated, never underestimate your brand image or identity. Focus on building a one-of-a-kind brand that will attract more customers to you.
Grant Polachek is the head of branding for Squadhelp.com, 3X Inc 5000 startup and disruptive naming agency. Squadhelp has reviewed more than 1 million names and curated a collection of the best available names on the web today. We are also the world's leading crowdsource naming platform, supporting clients such as Nestle, Dell, Nuskin, and AutoNation.