The world we live in today, it's easy to find an app available for our every single need. You name it and you find it. It's hard to believe but apps have taken over our lives from shopping to bill payment, health to doctor's appointments, to-do list to sleep track app. This is only due to the rise in the horizon of usage of smartphones, tablets and handheld devices.
It's already proven that a number of mobile phones have overpowered users and exceeded the number of desktop users. When mobile does all the nitty gritty of a user, then how can shopping be left behind. With mobile shopping has become far easier and comfortable than it used to be. Retail therapy is appreciated as it has given a user the freedom to shop from wherever they are.
Fact Alert: Did you know? Statista states that almost 80% of U.S. consumers are equipped with at least 1 retailer app on their smartphone.

Source: Medium
However, competition has fairly increased since the acceptance of mobile apps for shopping. More and more entrepreneurs are interested in trying their luck and create retail mobile apps.
In order to have an efficient, user-friendly, and feasible retail app ready; one need to ensure that they follow the right tips and strategies. Before you reach out to an iPhone or Android app development company to build a retail app for your business, make sure to conduct a rigorous research on the market trends. Remember that one mistake could ruin the concept of the retail app and bring it down as a failure.
Let's consider the example of a well-known and adaptive retail app – Walmart.
The Walmart mobile app has kept its customers' expectations on priority. The app helps customers to shop smart. It plans shopping trips, checks prices in-store, reorders everyday essentials on just a touch, links a credit card, scans the barcode to get the price quick, and even refills and transfer prescriptions from another pharmacy to Walmart.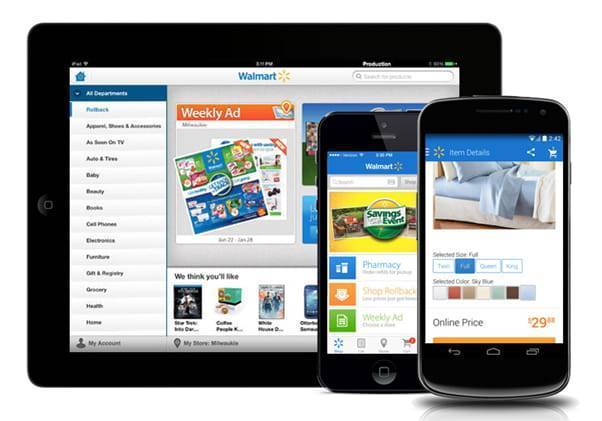 Source: Rapid Value
We have 7 prominent yet understated tips that could live the retail app and make it hit amongst users.
1. Start Fresh with an App Strategy
For a retail app to be successful and accepted by the target audience, it's important to keep users' expectations at the top! There would be tons of apps available for users to shop from, but a 'Unique Selling Point (USP)' is the key factor that would push your audience to use your app.
It's important to give the best mobile app experience to users such as impeccable user
interface, new functionalities like easy bill payment, safety and security of user details and etc.
2. Features list
In order to develop a retail mobile app, one needs to consider all such features that would make user's life easier on every tap on the app. What features to include is one of the main factors that would run the retail app and attract customers to use it.
For instance- QR code scanner is one such feature that allows users to scan the QR code and make payment with mobile phone itself. This way a user need not carry money for cash payment.
Another example could be to allow push notifications on user's mobile app so as to intimate users of any upcoming sales, ongoing discounts etc. that keep users updated all the time.
3. Latest technology
It's important to develop a retail app that is as per the market standards. Yes, we are talking about mobile app developed on the latest technology.  Old technologies are out of the businesses already and have lowered the audience attraction towards the app.
Therefore, an app developed based on the current technological trend is surely applauded by the users as they understand the requirement of users easily and assist them too. When engaged with an Android or iPhone app development company to build an app for your retail business, you must be aware of emerging technologies that could help you increase business revenue and provide maximum convenience to your users.  
For instance – Based on the previous purchase of user, the app suggests products to users that they might want to buy. This is due to the app based on technology like Artificial Intelligence.
4. Platform Selection
Today there are 2 major platforms available basis which a mobile app developer chooses to build an app. While Android has a larger market, share compared to IOS market share; it depends on a few other factors that decide the platform of the app such as demography, culture, need, and etc.
It would be a blunder to launch an IOS platform mobile app where user's preference is Android only and vice versa. Hence, before getting into the development phase, one needs to understand the audience for which the app is to be launched and then take the final call.
5. Start Slow & Small
While the intent of creating a retail, mobile app is to get a user to use it, one should not forget that it's a smart choice to start slow and small. By slow and small, we mean to set reachable targets and start with few important features in the app.
Post realizing the effect of the app, a business can ask app developer to make modifications as per user demands accordingly. The focus should be on 'one' things that add value to the user's shopping experience.
6. Keep UX/UI Design in Mind
The first thing that a user sees in a retail mobile app is the design of the app. When the design is user-friendly, easy to understand, then it automatically entices users to use it again and again. Also, simple come and go (one step point of sale) process is also appealing i.e. users emphasizes using apps that are easy to process. Unnecessary inter steps makes the app complex to use and thus loses user's interest.
7. Go for Native apps
Last but not least, it's preferable to go with quality native apps as they offer superior performance, speed, and functionality when compared to web-based applications. As per the data, when users have control over the native environment and additional control of their purchase path, there are chances of higher conversion rates on retailer's native app compared to mobile and desktop websites.
Conclusion
To conclude, there are many tips that could help mobile app development companies build the retail app that is easily accepted by the users. But, it's always mandatory to keep in mind that the app is for users. If an app is created placing them as a priority, surely, it's going to be a huge hit, bringing all the profit; if not, then there's no way the app can sustain long in the market.
Author –
Siya Carla is the Solution Consultant at Finoit Technologies, a leading custom software development company which provides unique web design and mobile app development services. By creating interactive mobile apps for 450+ customers across the globe, Finoit enjoys a great reputation as a prominent mobile app development company.